Electric Mud and MDRN HSTRY LIVE in Concert at Moonshine Beach
Thu Mar 28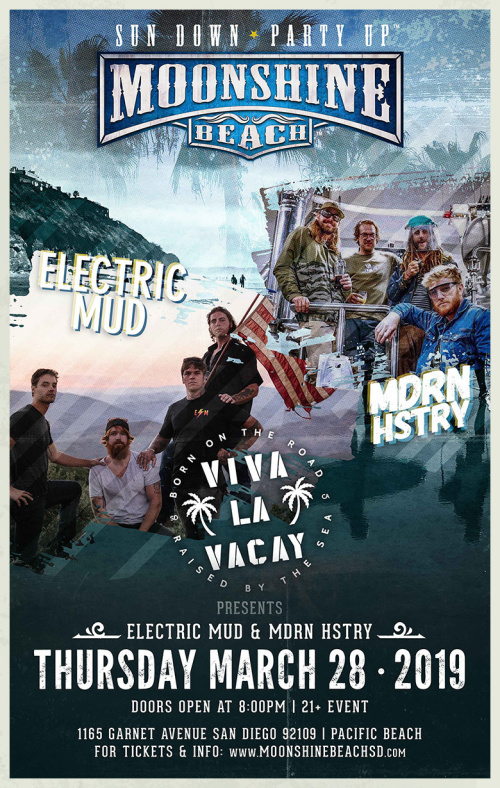 Event Description
VIVA LA VACAY presents Electric Mud and MDRN HSTRY!
Electric Mud was started by brothers Marc and Matty in Staten Island, NY back in 2008. Soon after the band was formed, both brothers left New York to join the Navy in 2010, putting their musical aspirations on hold. In the military they met Colton and Phil and started jamming on their off time. The drive to make music became stronger than ever. All four members decided to complete their time in the service and pursue music full time.
With an old school vibe that clearly represents the golden era of rock'n'roll, they're bringing back the classic sounds of the 60s and 70s. The band tries to pay homage to every era of rock'n'roll roots, even back to the beginning of American blues, early country and Motown. Bands and artists like The Rolling Stones, Otis Redding, Tom Petty and Waylon Jennings can be heard in their sound. Catchy songwriting with strong hooks, paired with a tenacious live sound, have given Electric Mud a reputation to pay attention to. If you're looking to find tunes for your next road trip, or trying to catch a real rock'n'roll show out on town, Electric Mud is exactly what your looking for.
From within the time-seasoned walls of a garage somewhere in Pacific Beach, the muffled sound of sub woofers and pumping fists is overtaken by dancy beats, drifting lyrics and thick vintage reverbs. These new noises are coming from a band. This band is on a mission; a mission to move the people of this world, to guide the lost souls, and to illuminate the way nelodic salvation with a mighty, and most triumphant scepter of sound. they are MDRN HSTRY.