Pat Green Live in Concert at Moonshine Flats
Fri Jun 14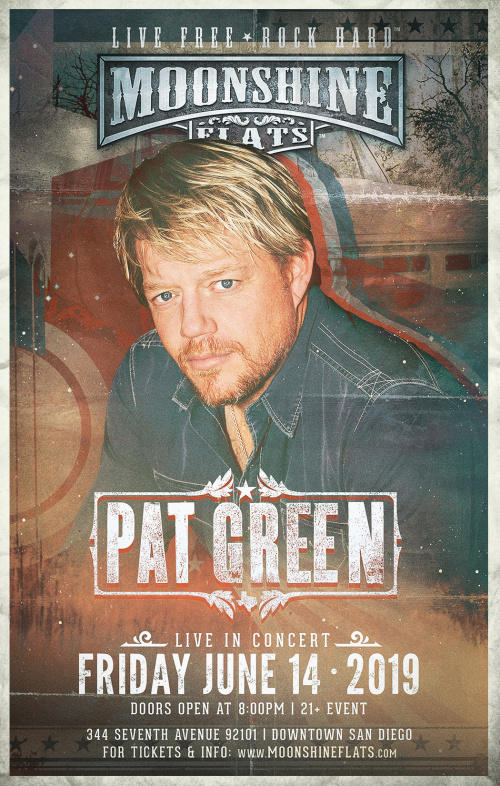 Event Description
TICKETS AVAILABLE AT THE DOOR

Pat Green
After rising through Texas' college-town and dancehall scene years ago, Green earned himself major-label support in Nashville and became the poster child of Texas music for a whole generation of fans. His list of achievements includes over 2 million albums sold, three Grammy nominations and a sold out Houston Astrodome.

But after releasing six albums in eight years, sending singles like "Wave on Wave" and "Let Me" up the charts, touring with powerhouses like Kenny Chesney and Keith Urban and dealing with accusations of "selling out," the meat grinder of mainstream stardom proved to be too much. He was spent.

"I felt so much pressure during the years I was with the big record labels to put out a record almost every year," he explains. "There was a constant loop of having to be creative with new music, and that's just not my style. I like it to happen when it happens."

Now, after breaking the cycle for a three-year recharge, Green is back in his comfort zone and playing by his own rules again. His is new independent album Home is his first set of originals in several years, and directly speaks to the hardcore fans that have been with him since the beginning.

Featuring a mature country sound that is both modern and exposes his roots for all to see, his new tunes are full of ringing acoustic guitars, slippery steel and dobro, wailing fiddles and heartfelt, personal lyrics, making Home the return to form many fans have been waiting for.

"I'm very comfortable with this record, it came out exactly as I wanted it," Green says.

Produced by the all-star team of Jon Randall Stewart, Justin Pollard and Gary Paczosa, the album captures some of the unbridled energy of his first three self- released projects.

"It's not too over-the-top produced, and it's not bare bones," says Green. "It grooves well, you can turn it up or you can leave it down. It's a very comfortable spot."

Of 13 new songs, Green co-wrote seven with big names like Scooter Carusoe, Liz Rose and Chris Stapleton, while six more were pulled from A-listers like Jessi Alexander, Brett and Jim Beavers, Chuck Cannon, Shane McAnally and Josh Osborne.

The album begins with the title track, boldly tackling the singer's contentious mainstream rise and any lingering naysayers right off the bat. Green doesn't regret taking his shot at the big time -- and says he had a lot of fun doing it -- but he does understand why some fans felt left out in the cold.

"I was blind to the game, I sang the wrong songs, and disappeared for way too long," he sings. "But I've finally found my way home."

"That song was very, very easy to write," he says. "I was writing with Patrick Davis for a couple of days here in Ft. Worth, and that song was really fast, just because I could hear those lines so easy -- 'Yeah it was fun, we were drunk as sailor's sons' -- we were heroes in our hometown, we were all those things."

With that out of the way, Green gets down to business, laying out a series of songs aimed straight toward his core fan base in the Lone Star state, Oklahoma, Arkansas and Louisiana.

The album's first single, "Girls From Texas," is a prime example, and also features the first of Home's stellar guest appearances. A sugary, grown-up lullaby that explains why Texan girls are just a little bit better than the rest, the track spent 10 weeks on top of the Texas Music chart. Green calls recording the song face-to-face with Lyle Lovett a highlight of the whole project.

"That's a Jon Randall song," he explains. "He sent it to me and I'll never forget it. I was on the plane coming home from Louisiana, and he goes 'What do you think about this?' and I literally had chills all over my body. I was like 'I'll cut that son of a gun right now!'"

"While I Was Away," the project's second single, will strike a chord with anyone who leaves his or her family behind to travel for work. Written by Zane Williams, it's a tearjerker of the highest caliber -- one that even Green has trouble getting through. "It's just such a ringing truth," says the father of two. "Everyone says 'That got me. This thing made me cry. God dang, why'd you have to do that?'"

For lighter fare, Delbert McClinton and Lee Roy Parnell guest on "May the Good Times Never End." With a twisting, generation-spanning storyline, it features a hot- rod beat and Parnell's burning slide guitar, as well as McClinton' rabble-rousing vocals and harmonica.

"Break It Back Down" speaks to Green's new outlook on life and music, while "No One Here But Us" brings in Sarah Buxton to tell a steamy tale of desperate romance. Meanwhile, "Right Now" is a broken-hearted duet with Sheryl Crow that tells the unflattering-but-true story of Green dumping his now-wife on Valentine's Day. "I was 22 years old and she was 21, I was ready to move on from Texas Tech and get to Austin and whatever was next," he says. "It was the biggest mistake of my life, but at the same time it paid off, because once I realized it was a mistake, I knew our love was the real thing."

And finally, "Good Night In New Orleans" ends the project on a high note, featuring a celebratory storyline and Louisiana-native Marc Broussard for added Cajun authenticity.

"I kind of have a standard rule to start and finish strong," Green laughs. "The story behind it is great, and everything about that song is cool and fun and funny to me. Everybody around here loves a trip to New Orleans."

According to Green his time off was very much needed, but even though he always intended to return, it still feels like a risk.

"There's a lot of fear, of course, and a lot of 'Is anybody interested? Has the landscape changed so much that I can't have an impact?'" he admits. "It's a mix of excitement and fear, but it's a welcome challenge."

Mainstream country may have changed, but Green is back in his groove, back to loving and making music on his own terms and happier than ever. And that's a recipe for a comeback of epic proportions.

"I think I'm having the best year of my life," he says. "I feel happy and I feel smarter now. I look back and I wish I could go back in time and tell myself to slow down a little bit, but the truth is life is just enjoying the passing of time, as James Taylor says. There's a lot of drama and there's mistakes and you've gotta get through all of it to get to what you're looking for."

What he was looking for was right at Home all along.