Viva la Vacay Presents: Night Beats at Moonshine Beach
Thu Jun 27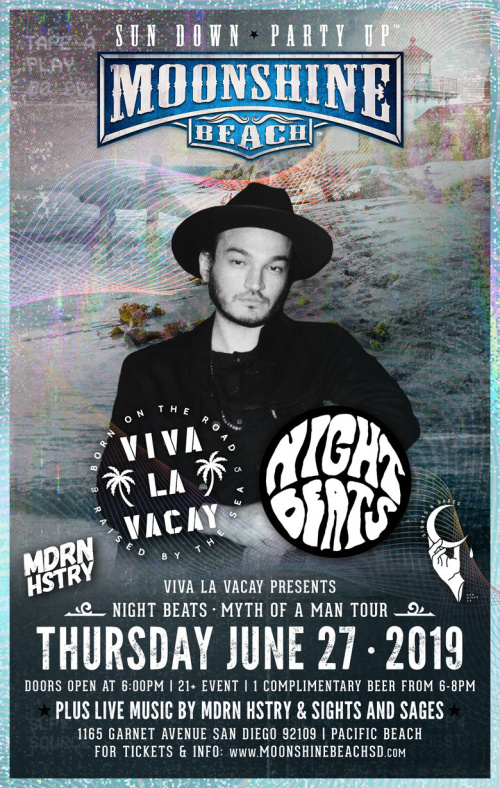 Event Description
VIVA LA VACAY PRESENTS: NIGHT BEATS Myth of a Man Tour
Plus live music by Sights & Sages and MDRN HSTRY. Get here early for 1 complimentary beer from 6-8pm!
Doors OPEN at 6PM
Night Beats play pure psychedelic R&B music that spikes the punch and drowns your third eye in sonic waves of colour.
Sights and Sages is a new alternative rock group from San Diego, CA. Sights and Sages captivate listeners by combining spacey guitar riffs, driving bass lines and compellingly syncopated drums. Underneath the celestial atmosphere produced by their performance, a rougher, more raw aspect is also found in the music. Sights and Sages have just released their first single, "Give," and are currently in the process of recording their debut EP.
MDRN HSTRY started pushing live music and performance art back into San Diego's nightlife when they formed in 2017 at the Garage Mahal. With their growing community of followers, this Psychedelic Disco-Punk 5 piece aims to make live music an audio/visual experience with the use of stage props, tripped out video mashups, and old tv sets. Show-goers find themselves rubbing elbows with the bands singer, as he joins the crowd for large portions of the set. Their music has been described as Quentin Tarantino meets The Doors, with beachy elements nodding to the late Dick Dale.