Matt Stell Live in Concert with Chris Bandi and Ray Fulcher at Moonshine Flats
Fri Jan 24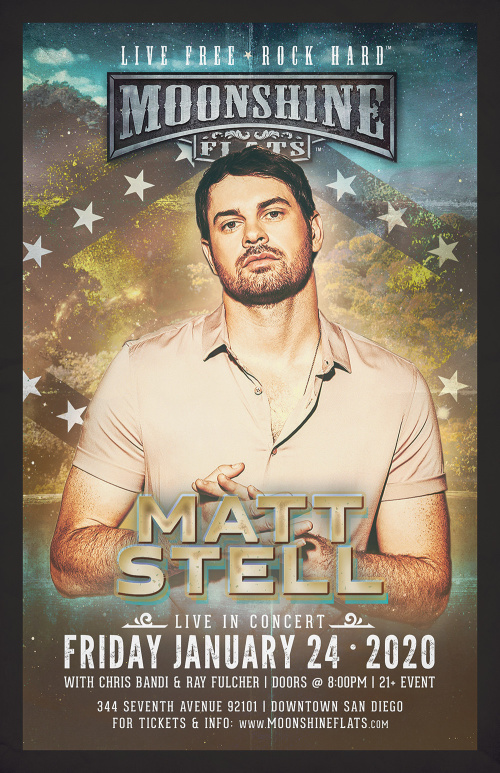 Event Description
"I just try to be as real as possible," says "Prayed for You" hit maker Matt Stell. "Just trying to tell some kind of truth is the hallmark of what I do."
Coming from a true singer-songwriter like Stell, that's not really an Earth-shattering statement. What makes it interesting, though, is the wealth of experience he has to pull from. A renaissance man in modern country, Stell is both an artist and an athlete, a soulful Southern vocalist and a worldly wayfarer. He's a deep-thinking academic and a live-for-the-moment dreamer. And he's a writer whose passion for the page is only equaled by his addiction to the stage.
A life of twists and turns has led Stell to follow more than a few callings – and he's done so with excellence each time. But with his Everywhere But On EP, the tangled paths of his background converge at a new destination.
A native of Center Ridge, Arkansas, and a 6'7" former collegiate basketball standout, Stell finds himself on the cusp of stardom in 2019. His powerfully romantic single "Prayed for You" has racked up more than 45 million digital streams and is now spinning on country radio, while the music video has been viewed more than 4 million times. The Nashville recording project he's been working toward for years is out, and he's made his Grand Ole Opry debut. But if he's honest, he was starting to think this would never happen.
After teaching himself to play guitar and sing in college – moonlighting at local venues under a fake name after basketball practice – Stell finished up grad school and began writing with Red Dirt stars like Casey Donahew, who he met on the regional tour circuit. Tapping a diverse love of artists whose songs read like stories – Randy Travis, Bonnie Raitt and the Drive-By Truckers, to name a few – Stell's own words began making waves, with songs like "Whiskey Baby" and "Small Town Love" hitting Number One on the Texas Radio chart for Donahew, and raucous live shows pulling him to Nashville in 2014.
"I thought 'Well, if I can do it here, maybe I can do it in Nashville, too'," he explains. "And I was close a couple of times, but I didn't really have the opportunity that I felt like I came to town for."
After years of chasing what was starting to seem like a pipe dream, Stell and his future fiancée took a medical mission trip which again changed his course. Working with doctors and nurses to help disadvantaged patients in dire circumstances, he felt inspired to make a difference, applied for and was accepted to the (post-baccalaureate) pre-medical program at Harvard extension school. It would take nine long years of study before he would even see his first patient, so it was time to decide where his future would lead. But a funny thing happened while Stell was standing at his fork in the road. He met Wide Open Music's Ash Bowers, who almost immediately offered Stell a publishing deal.
"I knew that if I didn't do it I would feel like I was quitting," Stell says now. "It was like 'This is what you came here after, and now you have an opportunity. You need to see it through. They'll still be holding class up there if it doesn't work out.'"
It was the right call, and now "Prayed for You" has taken on a life of its own. Stell wrote the timeless ballad with Bowers and Allison Veltz, perfectly capturing the faithful romantic longing which dwells within each human heart to find its forever companion. A week prior, Veltz had just met the man who would later become her husband, and offered up the gracious chorus hook "This is bigger than I could fathom / I didn't know you from Adam / But I prayed for you."
"We went into the room like we do every day and tried to write a great song, and we came out with something that has since proven to mean something to people," Stell explains, noting that onstage marriage proposals are not out of the question for his shows. "Nothing makes me feel the way my favorite songs make me feel, and the fact we've been able to do that for someone else – that's the whole reason I wanted to do this in the first place."
Now impacting country radio via Barry Weiss' RECORDS label (a Sony joint-venture created by one of the figures behind '90s superstars Brittney Spears, N'SYNC and more) in partnership with Arista Nashville and Good Company Entertainment, "Prayed for You" leads Stell's Everywhere But On EP – seven self-penned tracks which trace the contours of his eclectic artistic identity. "We've got songs that cover Saturday night and Sunday morning," he says with a grin. "I don't try to separate the different parts of life."
The country-rocking "I Bet Whiskey Would" lands firmly in the Saturday night category, using bourbon-soaked guitars and 100-proof vocals to stoke a red hot bar-top connection, while "Home In a Hometown" takes up the Sunday-morning mantle, describing what makes a small town "home" in loving detail. The duet features "Best Shot" hit maker Jimmie Allen on a blast of modern, heart-forward nostalgia.
"'Home' can be romanticized as this place with these church pews and back roads, but what really matters are the people in those pews or running down those roads," Stell says. "It's an homage to where I'm from and places like that all around the country, and Jimmie adds a whole new dimension."
Meanwhile, "Reason Why" presents Stell's expressive vocal inside a moody anthem to rolling the dice on love once more, "Last Habit" goes down smooth as an intoxicating can't-help-myself jam and the gritty "Better I Drink" pairs a swamp-rock beat with a bluesy, talk-rapping bridge.
But it's with the project's title track that Stell truly nods to his roots. "Everywhere But On" feels like classic country translated to a modern tongue, all about a guy who's moved "everywhere but on" to forget an ex; from Savannah to Long Beach, California, and from the Mississippi Delta to Santa Fe. It recalls a time in Stell's life when he was living one show and one song at a time, never spending more than three nights in a row in the same place. He was gone so much, in fact, that up until this year all his mail was delivered to his mother back in Arkansas – one bit of truth that now appears in the track's second verse, adding lived-in weight to a song filled with the weary ache of a lifelong searcher. "That part of that character is really true to life to me," Stell says. "I know what that's like."
"I could add another push pin to the map / But that won't stop me from missing you or looking back," he croons in the vivid standout's chorus, co-written by Stell with Paul Sikes and Lance Miller.
We all come from so many influences that I feel like you can never tell where music – or life – will go, and that's what I gravitate toward," Stell says, hinting at the subtle diversity found on Everywhere But On … and to his own wandering spirit. "I hope there's a moment on this EP for everyone to be like 'Oh yeah, I love this part. Play that again.'
Named a "Breaking Big in Country" artist by Entertainment Weekly, a "New Artist to Hear Now" by The Boot and Sounds Like Nashville, and with over 60 Million global audio and video streams on his evocative hit "Man Enough Now," Chris Bandi is poised for his breakthrough in country music. The St. Louis, Missouri native has been writing songs since high school. He began making the trek to Nashville during his college days at Ole Miss, honing his craft playing small clubs and making the big move to Music City after graduation. Nashville took notice of his passion for storytelling and multi-genre tinged vocals, evidenced by a publishing deal with BMG and a RECORDS label deal earlier this year. A brand-new EP is expected to release in late 2019.
Ray Fulcher was born & raised in the small town of Harlem, Georgia and grew up on many of country music's best songwriters & storytellers. Some of his biggest influences were Alan Jackson, Keith Whitley, Lynyrd Skynyrd, Eric Church & George Strait. He was inspired to go out and buy a guitar after seeing an Eric Church concert at the Georgia Theatre in Athens, Georgia when he was 21 years old. Shortly after Ray graduated from the University of Georgia he moved to Nashville, TN to pursue his songwriting & artist career. In 2016 after signing a publishing deal with River House Publishing, Ray released his EP "Here We Go Again" which debuted in the top 10 of the country charts & led to tours with Luke Combs (THIS ONES FOR YOU TOUR 2017) & Morgan Wallen (UP DOWN TOUR 2018) as well as extensive headlining & festivals shows. Ray has stayed busy on the songwriting side of things as well, co-writing 8 songs on Luke Combs Platinum debut album "This Ones For You" including the #1 single "When It Rains It Pours" which has been certified triple platinum. 2019 will see Ray releasing new music produced by Jonathan Singleton (Co-writer of the hit songs: "Red Light" David Nail, "Why Don't We Just Dance" Josh Turner, "Diamond Rings & Old Barstools" Tim Mcgraw, "Yours If You Want It" Rascal Flatts & more). The single "Anything Like You Dance" was released on Feb. 15, 2019 & his new single "Life After Your Leavin" was released on Aptil 26, 2019. Ray will be supporting Luke Combs on his sold out "Beer Never Broke My Heart" tour in the summer of 2019.