*POSTPONED* MADDIE & TAE | NEXT WOMEN OF COUNTRY
Wed Jan 19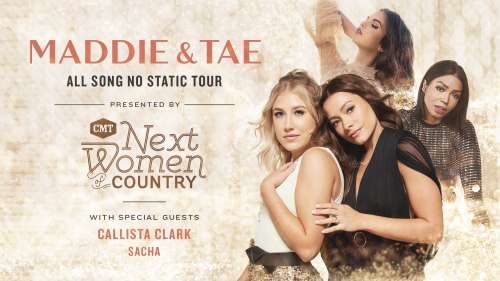 Event Description
***The Maddie & Tae Concert scheduled for January, 19th, 2022 has been postponed! All tickets will remain valid for the new scheduled date, or you can submit a request for a refund HERE. Once processed, refunds should take 3-5 business days to appear in your account.***
Award-winning country duo Maddie & Tae recently released a brand new single, "Friends Don't," playing on country radio now. Written by Maddie & Tae's Maddie Marlow and Taylor Dye along with Justin Ebach and Jon Nite, "Friends Don't" is the first single from the Platinum-selling duo's forthcoming sophomore album on Mercury Nashville. The new album follows Maddie & Tae's critically-acclaimed, "highly polished" (Billboard) debut, Start Here. Garnering instant praise with their Platinum-selling debut and No. 1 hit, "Girl In A Country Song," Maddie & Tae became only the third female duo in 70 years to top the country airplay charts with their debut single. In addition to earning multiple ACM, CMA and CMT award nominations, the duo scored a CMA Award for Video of the Year for "Girl In A Country Song" and Radio Disney Music Awards for Favorite Country Artist and Favorite Country Song for "Fly," the Top 10, Gold-selling follow-up single. Receiving praise from NPR, Billboard, Entertainment Weekly, The Washington Post, Glamour and others, country music's hottest stars including Dierks Bentley, Lee Brice and Brad Paisley took notice and welcomed Maddie & Tae on tour before the award-winning duo launched their own headlining Start Here Tour. For information on touring, music, updates and more, please visit www.maddieandtae.com.
Every song has a story and at just 17 years old Callista Clark has a lot to say. Like Maren Morris, Jennifer Nettles, Tori Kelly, Ingrid Andress and so many talented singer/ songwriters that paved the way before her, the young songstress wields her creative gifts as both a defense and an instrument of peace as she puts her heart on display with her forthcoming debut collection Real To Me via Big Machine Records. Blending her love for authentic, timeless classics with the sounds of her Country roots which sprouted from her hometown of Zebulon, Georgia, Clark "puts a fresh spin on soul phrasing" (Billboard). Gearing up to release her debut music, she's worked with many of Nashville's leading songwriters including Jonathan Singleton, Laura Veltz, Nicolle Galyon, and Emily Shackleton, among others. The proof that Clark could hold her own among Nashville's most prominent is evident in the feisty anthem of "Change My Mind," the poignant and relatable truths of "Real to Me" and the declaration of confidence in "It's Cause I Am." It's her ability to be both assertive yet vulnerable, and empowering while brutally honest that make Real to Me such an auspicious introduction. Her inspiring videos with which Scooter Braun (SB Projects) and Scott Borchetta (Big Machine Label Group) took notice, have amassed over 65 million views on Facebook and over 6 million views on YouTube.
Born and raised in a musical family from Ontario, Sacha has always had music in her heart and in her soul. "The impact of country living and country music just had an effect on me," she tell us, "I grew up in a household of musicians. Every instrument was available in my house." With an ear for all music, her family introduced her to the likes of artists like Patsy Cline, Janis Joplin, Jim Morrison, and even Bob Marley.
"I didn't even realize what kind of music I was falling in love with, it was just what I heard over the speakers that really struck a chord with me," she shared, later adding that it was her mom's Patsy Cline's records that really stuck out to her. "I remember singing along and wishing I was the voice on the other side of the speaker."
As she grew older, the idea of being a female singer-songwriter in the industry felt more possible after she discovered a brand new artist at the time, Taylor Swift. As a young girl, Swift was breaking records, writing music, and being portrayed in the best light by fans and the industry. "I just wanted to sing," she recalls, "You just don't know how you're going to connect those dots from a small town to the stage, to the dream."
Armed with a passion, but a need to pay the bills, Sacha juggled both the "typical" life, working and grinding away with playing gigs wherever she could. "I was playing the guitar for three hours a day, working on my guitar skills, writing, and then I started going down to the open mics," shared Sacha, adding, "When I picked up my guitar to write a song, it was just natural to me to write a story, that's just what was natural to me, it's just what came out of me, country music."
After entering and winning a singing competition called "Canada's Next Country Music Star" in 2016, doors started to open for the budding entertainer. Her dream of being a country artist continued to become more real when she connected with the incredible Leslie Fram of CMT and eventually was inducted into the 2021 class of CMT's 'Next Women of Country.'
Around the same time, Sacha released her EP The Best Thing, featuring her current charted hit "Standards." As an independent release, the song broke the top 50 on the Canadian charts and created more buzz about her in the country music world. The song also happens to be an incredible anthem for people everywhere.
"The second I heard it, it just hit me like a ton of bricks," she shared when she first heard the pitch for the song, "I always loved making music for the love of it, but the main thing is having a good message to go along with. […] We have a lot of heartbreak songs on country radio, but not a lot of songs that might help you avoid one," she laughs, adding later, "Stick to your standards!"
Sacha promises that more music is in the works and continues to write as much as she can. Of course, as soon as it's safe to travel, she hopes to come back to Nashville to be surrounded by people that inspire her. It's safe to say it is only just the beginning for the songstress and her blossoming career.