Michael Ray and Brooke Lee at Moonshine Beach
Thu Jun 1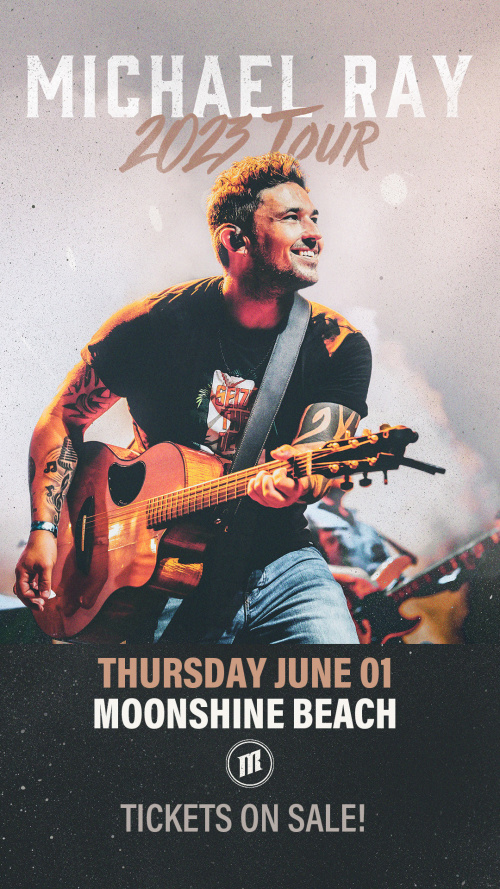 Event Description
Michael Ray - Florida's Michael Ray has a resonant voice and a knack for crafting vibrant, upbeat contemporary country-rock. Although he built a strong grassroots fan base in Southern Florida, he also gained prominence as the winner of the CW network's reality television vocal competition The Next: Fame Is at Your Doorstep in 2012. After taking home the crown, Ray signed with Atlantic Nashville, landing his first Top Ten hit with "Think a Little Less" in 2016. That track, along with 2018's breezy "One That Got Away," emphasized his facility with soulful rhythms and pop hooks, but his 2021's Higher Education EP underscored his harder country roots.
A native of Eustis, Florida, Ray was first introduced to music via his grandfather. A local country and gospel musician, Ray's grandfather taught him how to play guitar and gave him his first performance experience, letting him tag along for shows at various assisted-living homes and community centers. Initially inspired by such classic country artists as Porter Wagoner, Merle Haggard, and Waylon Jennings, by his teens Ray was expanding his taste, listening to more modern artists like Garth Brooks, as well as imbibing the eclectic influence of modern radio sounds from rock to hip-hop. By the time Ray graduated high school in 2006, he had decided to pursue his passion for country music.
Forgoing a move to Nashville, Ray instead formed a band and began playing a constant grind of shows all around Southern Florida. He slowly built a loyal following, a fan base that widened considerably after a Lakeland DJ for WPCV-97 Country put his music into regular rotation. Soon Ray was headlining the Orlando House of Blues and selling out shows all over Florida. In 2010, his independently released debut caught the ear of veteran music industry manager Tony Conway, who began helping Ray take his career to a national audience. In 2012, he appeared on the CW talent competition The Next, where he was mentored by Big & Rich's John Rich. Ray was an audience favorite on the show and ultimately took home the top prize. After the show, he signed a publishing deal with Warner/Chappell, and in 2014 released the hit single "Kiss You in the Morning."
His full-length major-label debut, Michael Ray, followed in 2015 on Warner Music Nashville. Well-received, the set made it to number four on the Country Albums chart, and spawned two more singles with "Real Men Love Jesus" and "Think a Little Less." Over the next several years, Ray toured extensively before returning to the studio alongside producer Scott Hendricks (Blake Shelton, Brooks & Dunn, Trace Adkins). In 2018, he delivered his sophomore album, Amos, which included the Top 20 country single "Get to You." Amos debuted at five on Billboard's Country Albums charts upon its June release. Shortly afterward, "One That Got Away" became his second Country Airplay Top Ten hit, reaching number three. "Her World or Mine" closed out Amos' chart run in 2019, reaching 22 Country Airplay.
The non-LP single "Whiskey and Rain" followed in 2020. It would wind up anchoring Higher Education, the EP Ray released in August 2021.
OPENING ACT: BROOKE LEE
Born in Charlotte, and raised on Lake Norman this North Carolina artist made a name for herself from the early age of fifteen, and by twenty years old was named "Best Female Country Vocalist Queen City" in 2020 and 2021.
Her life in music started early. Her grandparents were pastors and opened up her first opportunity to perform through worship leading. This led to her getting involved with the "Fine Arts Competition" where she made nationals in California, Ohio, Kentucky, and Orlando, Florida.
Brooke's dad was a big fan of music and turned her ears to classic rock. He would take her to see live bands, which led to her being a part of open mics and quickly inspired her to make music. At just 15 years old, Brooke started her first band, Seven Days.
Influenced by classic rockstars like Joan Jett, Stevie Nicks, and Janis Joplin, Brooke found her voice matched their styles and strengths, with Dolly Parton being a later influence.
Brooke would later move to Raleigh for worship leading but would drive home to Charlotte every weekend to play shows. Her passion for playing in the band while growing her independence, and vocal skills were crucial in her growth as an artist.
In 2019, at the age of 19, Brooke went to Nashville to record with Mike Caputy. While there she got the opportunity to be in a room and write with hit songwriter Bruce Burch (Reba McEntire, Faith Hill, Aaron Tippin, and George Jones, among others.) This was Brooke's first time seeing what the industry in the city of Nashville was really about.
On the second visit to Nashville she watched several local rounds for the first time, which helped Brooke realize she wanted to live in Nashville full time. Hearing new music, the creativity, and diversity of different artists, and seeing the hunger, drive, support, and respect other artists have for each other was something she wanted to be a part of.
Brooke moved to Nashville in January 2021. Things would come full circle when she also had the opportunity to play in those very same rounds.Learning about the writing atmosphere at rounds inspired her to write more music herself and evolve as an artist and get more involved with publishing.
"Anything I write is about something that's happened in my life or things about me that I can relate to," says Brooke Lee. "Someone once told me I was too young to have experiences to write about. I promised myself in that moment to be intentional, authentic, and genuine with everything I write and sing."
In 2022, Brooke's goal was to get new music out and tour often. One of her lifetime goals was to play Coyote Joe's, a regular popular spot in Charlotte she would attend as a fan growing up, and in January of 22' she made that happen.
Continuing to be around other artists in Nashville, and spending that first year figuring out how to survive and live in this wild music city has now driven her to push putting out new music and content that is showcasing her sound and brand. Through a constant grind, she has put herself in positions to walk through some incredible doors. One of her biggest influencers is Morgan Wade, and Brooke is now working with her co-producer, Paul Ebersold. Her upcoming releases have incredible writers, including one written with Rob Williford (Luke Combs).
Brooke has a signature sound and vibe that resonates with audiences of all styles and ages. Her resiliency, high goals, raw talent, and passion have set her up for a great career in her music journey.
__________________________________________________
For all ticketed events and concerts, tickets must be purchased through our official ticketing platform, Ticketweb. Moonshine Beach cannot guarantee tickets purchased through third party resale websites. Tickets that are obtained from unauthorized sources, and not directly through us, may be lost, stolen, or counterfeit, and, if so, are void.